The Good Business Directory Manchester informs the user on the best businesses and shows the feedback they have had from the public. Anyone is free to review as long as the feedback is fair and balanced.
INFORMATIVE - FAIR - CURRENT

MOST POPULAR CATEGORIES

| | | | |
| --- | --- | --- | --- |
| | | | |
| | | | Sports & Leisure |
| | | | Professional Services |
| | | | Property |

Manchester Good Business Directory is a site devoted to helping out
both Manchester businesses and anyone looking for a service located
within the Manchester area. If you are run or own a business you can
add your listing for free using the "Add Listing" service. We hope to
supply you with all the information that you need when trying to boost
business or if you are looking for a particular service.


Car drive around the city of Manchester

Manchester city tram

MANCHESTER GBD BLOG

12 April 2011
Manchester as a city is mad about football. There are two major world class football sides representing Manchester, in the form of the world famous Manchester United FC and Manchester City FC...
Read more here...

WHATS NEW?

Manchester has a fantastic range of places to eat out at, from high end restaurants, to small kebab houses. There really is something for everyone. Whether it's a laid back lunch or a full on formal dinner you're after, Manchester has it...
Read more here...

Manchester is a city and metropolitan borough of Greater Manchester, located in the North West of England and is very well known to be one of the biggest cities in the United Kingdom. Manchester is a great place to be in business and we aim to support every business that is committed to delivering a great service.

If you represent a business in Manchester, Get listed FREE today! Designed to get results for the businesses on the directory and provide maximum usability for visitors. All listings are highly optimised for search engines.

Basic listings are completely free of charge to businesses in the Manchester and North West region.

Keep up to date with the latest Good Business Directory News. And our

We do hope you will enjoy the benefits of more exposure and the resulting business this brings with our best wishes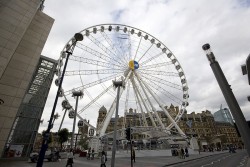 .